The 44th World Youth Rally 2019
July 14-19 in seoul, KOREA
What young people should know to be a Global Citizen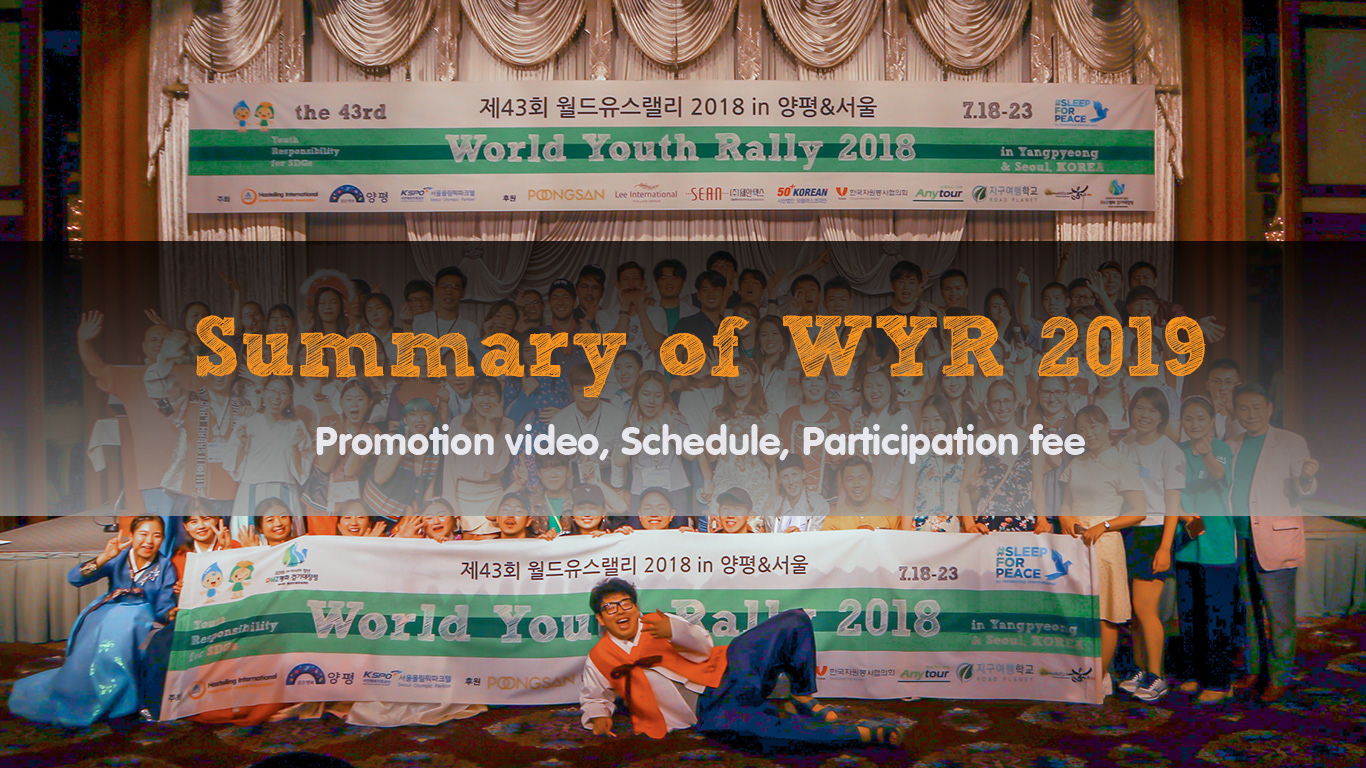 'Be friends, Best friends' is the Slogan of WYR. 
'Best friends' are not just friends but friends beyond prejudice and differences by understanding each other.
What young people should know to be a Global Citizen
The World Youth Rally (WYR) is an annual event hosted by Hostelling International KOREA, which is hosted primarily by Korean college students. This event creates a learning platform for the participants from all over the world, where four main themes will be discussed as following: Building Friendships beyond prejudice and differences, Discussing Based on Global Citizen Education (GCED), Traveling city and nature with Korean team leader, Thinking about World peace in the World's only divided country. About 150 students from other countries will be attend for this event and UN Sustainable Development Goals (SDGs) will be discussed.
Have you ever thought about how to spend your twenties without regret? What do young people in other countries have in mind in this globalized world? What do the best educators who lead the direction of future education have in mind? If you have ever wondered about these questions, join the 44th World Youth Rally !
What are the programs for this year's Youth Rally 2019? 
First, We learn what we need to know to be a healthy, future global citizen designated by UNESCO. 
Then you'll have a broader view of the world. Second, we talk about how precious peace is, how many people have made efforts for it? 
And what the young generation should do for peace. 
Third, there is enough time to make good memories with many good friends in beautiful clean mountains and valleys.
This is the place where you can get great world friends who thank senior generation for trying to make a good world and try for the next generation.
​​​​​​​

Be Friends, Best Friends.
The 44th World Youth Rally-2019 Please give us a lot of attention.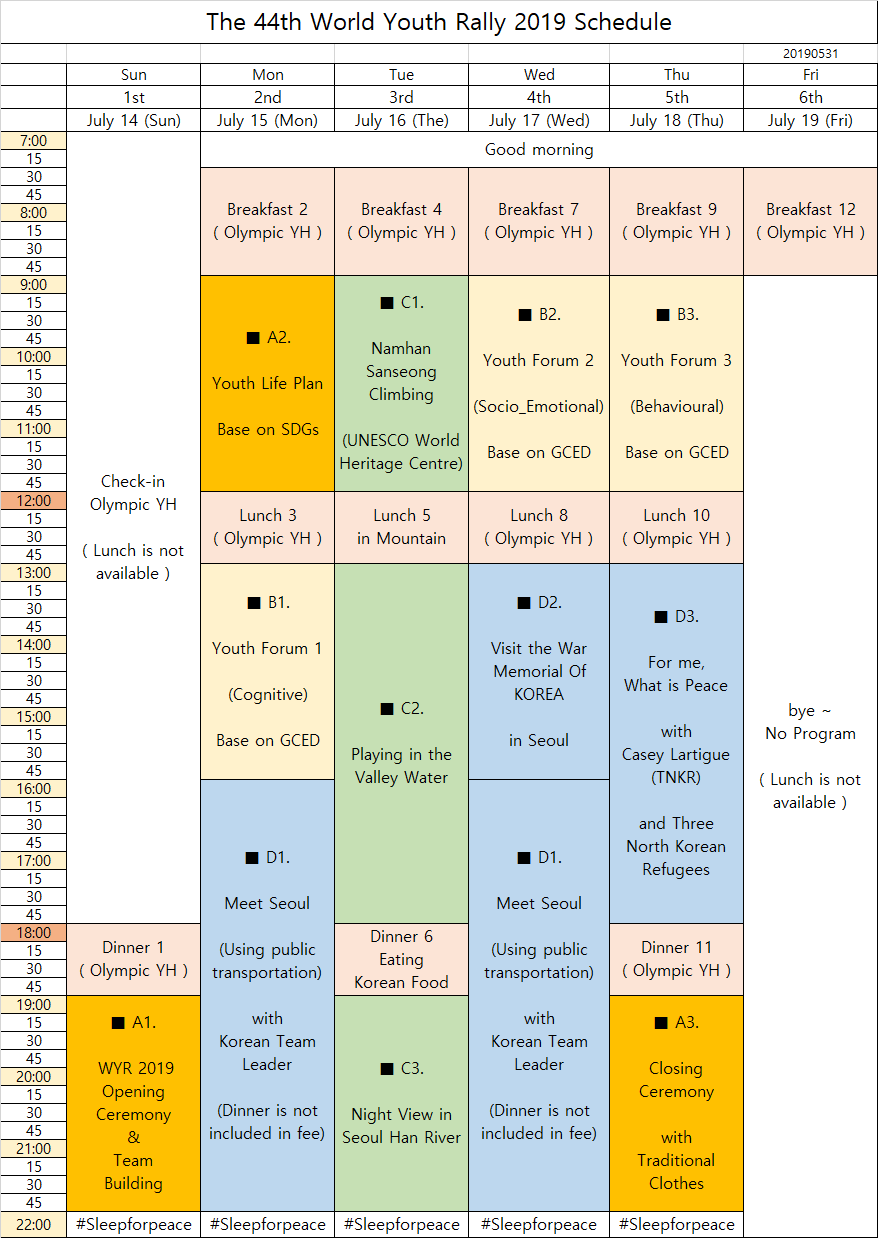 1. Period: July 14-19, 2019 / 6 days and 5 nights
2. Host:  Hostelling International KOREA, Korea Sports Promotion Foundation
3. Participant: total 120 Youth Hostellers 
4. Age limit: from sixteen  to twenty-nine years' old
5. Language:

English

will be a primary language during the event.
6. Venue & Accommodation: Seoul Olympic Youth Hostel
Transportation from the airport to the Olympic YH is not included.
7. Theme: What young people should know to be a Global Citizen
(Airline fare is not included)
Registration fee includes 5 nights 6 days' accommodation and 12 meals.
(Please note that the cost of Dinner at July 15, July 17 Seoul Tour is not supported, so you will have to pay for it.)
    - All accommodation(5 day) is provided.
        4 person Dormitory Room in Seoul Olympic YH
    - Airport pick-up fee (Please check in on July 14th from 2pm to 5pm to  the Venue.)
​
    - Seoul tour transportation fee and admission fee.
        Seoul Tour Dinner is not available. Freestyle with your Team
       The team tour course in Seoul will be decided by team.
​
    - Lunch on the first day of July 14 and lunch on the last day of July 19 are not available.
​
    - Individual traveler's insurance
After reviewing the application form, we will send you a deposit account number via e-mail address.